Download:

The Way Of The Two Brothers 2013 (leaflet)
PDF / 3.9 MB
On the occasion of this year's celebrations of the Czech national holiday, the Day of the Slavonic Missionaries Saints Cyril and Methodius, we announce, within the Days of the People of Goodwill, the 8th year of the art contest for all children from 6 to 11 years of age (attending primary schools in their 1st – 5th grades).
The adventurous journey of the two brothers, Cyril and Methodius, entered, in an undeletable way, into the culture of our nation. However, it can also inspire our present life and thus remind us of the riches of our ancestors, which we keep preserving.
The announcement of results: during the Days of the People of Goodwill at Velehrad on 4th July 2013
| | |
| --- | --- |
| Evaluating committee: | Adolf Born (chairman), Jan Jemelka, Vítězslav Koutník, Zdeňka Krejčová, Marek Trizuljak, Miroslava Trizuljaková, Martina Špinková, Jan Zemánek |
The contest is prepared for the following categories:
1st category – 1st – 3rd grade – painting + drawing
2nd category – 4th – 5th grade – painting + drawing
A3 format
authors of the winning works of art have to send a copy of their birth certificate
Do not forget to enclose a brief description of the theme of the picture and write your address, grade you are in, age, home phone number and e-mail address on the back side of the picture.
Send your works of art by 31st May 2013 to the following address:
Stojanovo gymnázium
Velehrad 1
687 06 Velehrad
(We do not return the works of art. Thank you for your understanding.)
The aim of the art contest is to acquaint children with the roots of our culture with a positive model for life in the present.
Themes:
1st category
Cyril and Methodius came with their escort to Great Moravia in 863.
Draw/paint Cyril and Methodius coming to Prince Rostislav with their escort.
Cyril and Methodius devoted their time to the inhabitants of Great Moravia. They spent a lot of time with them.
Draw/paint with whom you like to play.
2nd category
In Great Moravia Cyril occupied himself with education of new teachers and priests who were supposed to help to spread mutual love among people and say masses in the church in the Old Church Slavonic. Cyril did not only teach them to read, write, count and pray but also how to do good farming on their fields, so that they would have abundant crops.
Draw/paint how things could look at Cyril's school during a break.
The brothers also encouraged people to do their work in an honest way, e.g. while ornamenting jewels, but also to do good farming on their fields and take care of the properties entrusted to them.
Draw/paint what you like to help with at home.
AWARDS IN THE INDIVIDUAL CATEGORIES
1st + 2nd CATEGORY
1st place - A camera
2nd place - A multimedia encyclopedia for children
3rd place - A social game "In the Footsteps of Saints Cyril and Methodius"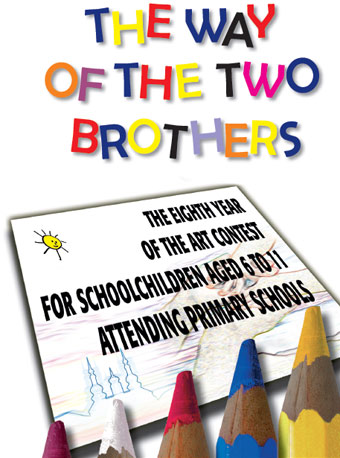 Under the auspices of:
Mons. Jan Graubner, Archbishop of Olomouc,
MVDr. Stanislav Mišák, Governor of the Zlín Region.
Media partners: