2.1.2013
Jiří Grygar: The World of Science – The World of Faith
more

28.12.2012
INVITATION: New Year fireworks in Brno
New Year fireworks in 2013 under the title "Message of Old Ages" is dedicated to an important anniversary of the New Year - 1150 years since the arrival of Cyril and Methodius to Great Moravia and 690 anniversary of the foundation of the monastery in Old Brno by Queen Elizabeth Rejčka. Fireworks artwork will be at the Brno sky accompanied by music. Fireworks is going to be seen from 18 p.m. above the castle Špilberk.
19.12.2012
LUHAČOVICE, ZLÍN – The evaluation of yet another year, fourth in the row, of the project called Open Gates, took place in the Augustinian House in Luhačovice in mid-December, in the presence of parish administrators, guides and representatives of the region, towns and villages. Also Ladislav Kryštof, the new regional councilor responsible for culture, preservation of monuments, tourism and cooperation with churches, made use of the occasion for balancing and evaluation of the project. He introduced himself to the participants and heard their experience.
more
16.12.2012
Thursday 17th January 2013
Brno – Exhibition Center
Exhibition Hall "P", P1 hall, 1:30 p.m.

more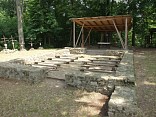 11.12.2012
Not far from Osvětimany there is a place where the translation of the Bible into Old Church Slavonic was possibly finished.
more
10.12.2012
ZLÍN – The aim of the project that has been approved by councilors of the Zlín Region is to lengthen the existing routes of pilgrims' paths from Moravia to Slovakia and from there further on to the south of Europe. This should be taken care of within the cross-border cooperation.
more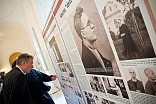 6.12.2012
On Monday 26th November 2012, a festive opening of the exhibition titled "Dictatorship vs. Hope" took place in the premises of the Pontifical University of the Holy Cross in Rome, which maps persecution of the Catholic Church. The exhibition opening was connected with an expert colloquium bearing the same title. The exhibition will be open for the public till 31st January 2013.
more

30.11.2012
On the occasion of the Cyrillo-Methodian anniversary the František Bartoš Regional Library issues a selective bibliography on the theme of the Cyrillo-Methodian Velehrad in literature. The bibliography provides an overview of the fundamental works on the issues related to the Cyrillo-Methodian tradition and the history of Velehrad.
more
26.11.2012
In 2013, 1150 years will have passed since the arrival of Saints Cyril and Methodius to Great Moravia. The František Bartoš Regional Library has joined the Velehrad 2013 project and it will commemorate the anniversary by a cycle of authorial readings and a selected bibliography
more